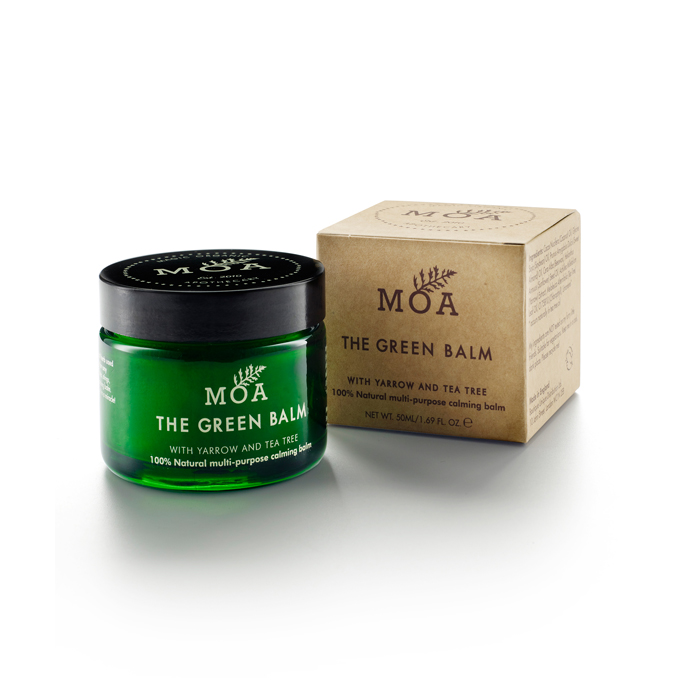 The Green Balm
The original Moa product. 100% natural multi-purpose healing/beauty balm.
A cult product which is crammed with the herb yarrow, used for centuries to heal and repair.
Soothe dry and itchy skin conditions like eczema, psoriasis and minor rashes.
Help heal minor cuts, grazes, blisters, bruises and burns on all the family.
Zap insect bites and stings.
Treat chapped, weathered lips.
Apply to sore, red nostrils when you have the sniffles and mix with a little hot water and gargle to soothe a sore throat.
Use between the toes to help combat athlete's foot.
Calm inflamed skin after shaving, waxing or threading.
Help fade scarring or stretch marks after pregnancy.
Soothe new tattoos or piercings, whilst helping to avoid infection.
Moisturise, soften and nourish dry hands, nails and cuticles.
Remove eye-make-up, use as a luxurious hot cloth cleansing balm.

YARROW
Its antiseptic action purifies whilst reducing inflammation, calming sensitive skin and breakouts. It has a unique dual ability to staunch a wound whilst promoting circulation to the area.

TEA TREE
This powerful plant has been revered amongst Native Australians for centuries. Its antiseptic, antiviral and anti-fungal properties are second to none. Tea tree oil zaps bacteria and enables the skin to repair.
Made with certified organic ingredients
No chemical nasties, parabens (artificial preservatives), perfume, alcohol, lanolin
Vegetarian and not tested on animals
Suitable for problematic and sensitive skin types